Make a Difference!
The Desert Angel is a faith ministry, meaning we are a strictly volunteer organization, funded totally by donations. We have no outside funding and an all-volunteer staff. Your generosity and support is so appreciated.
Whatever you can give makes such a BIG difference!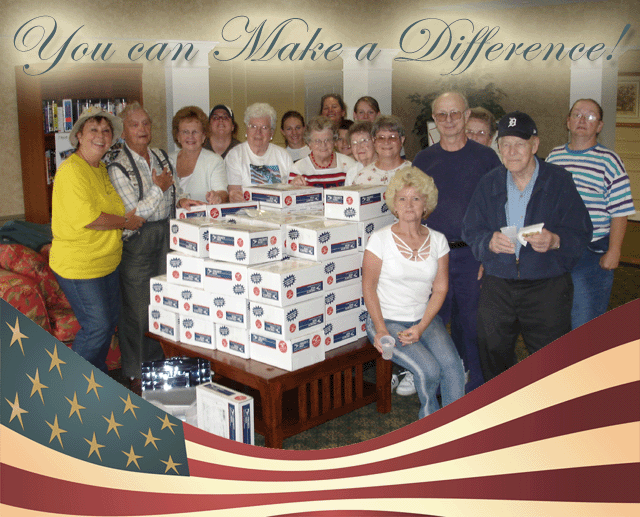 How We Started
I have been doing this ministry since October 2001. My friend, Brenda Lunsford, her son, Charles Lunsford, (US Air Force) was serving in the sandbox/desert. It was some very primitive conditions and very HOT… Making an air base, one sandbag at a time, with full gear and weapons on their backs…
Every fall I invite the "Young Adults" from my church Walton Blvd. Church of God, Pontiac, Michigan out to my house for hay rides, food and fun, my treat… I wanted that group, the very same age of many of our soldiers, to give back in some way… to show compassion. So, I asked them to make goodies, and write letters and cards to send to our Troops – this is how and why I started sending packages…
Yes, it keeps growing and growing… because deep down inside, The American People DO want to make a difference. People sincerely want to show their love and support, and I am very happy to help give that desire some direction.
Packing Miracle boxes is simple way to reach out, but it does make such a BIG difference!
Unique in any way? Probably not… Just a simple demonstrations of the Love of God, multiplying over and over and over – making a difference, one box at a time. Making a difference in the sender and the receiver and sharer, (because the Troops share whatever we send).
How many boxes?
Everyone asks me this. I have now been doing this since 2001, so it has been thousands of boxes, but I really do not keep track. The number of boxes is not nearly as important as the number of hearts we touch. To quote from Col. Joe at Brooks Army Medical Center, "You are more visible than you can possibly know." (Col. Joe served at the Baghdad Support Hospital in 2003 and in 2006).
I have a few contacts, you just need a few, that way you can keep track of when they are rotated back home, then they "pass the torch" on to the next soldier, when he gets to the sandbox. You see, our Troops are a team and they share the wealth of each box they receive.
Kind-hearted generosity and Word of mouth is how
"The Desert Angel" keeps going.
Americans are good hearted people…
They really want to do something to support our Troops, I just show how.
YOU CAN MAKE A DIFFERENCE!