Miracle Boxes
Miracle Boxes are care packages for our troops serving overseas. 
They contain a variety of items, including socks, pocket foods, letters from home and "a whole lot of love."
Also in each Miracle Box we add a "Prayer Cloth" or "Pocket Flag" reminding our Troops, we are praying for them.
We call them "Miracle Boxes" in honor of
PFC Joseph A. Miracle, a Michigan Soldier
who gave his life defending his unit.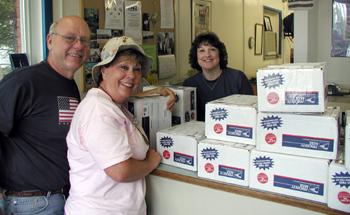 ---
---
Mission Statement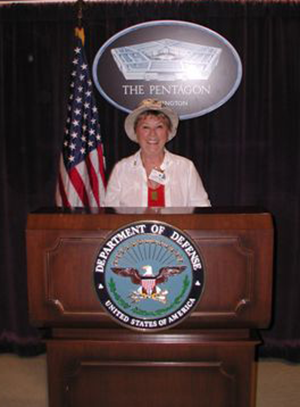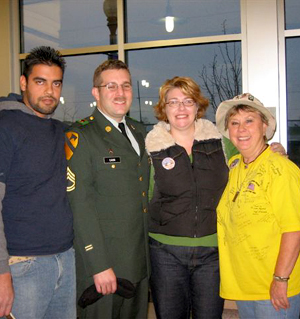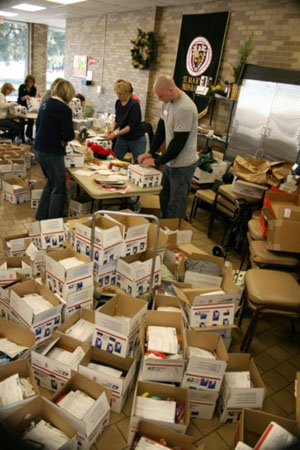 We collect, pack, and mail needed items to our Troops. Always including words of encouragement and hope. Adding extra items to pass out the native people of the countries that our Troops are stationed in. Throwing in some fun stuff or school supplies to give to the children. In other words we show our Troops they are not forgotten in deeds, not just words. Changing our world, one box at a time ~  Making a difference!
The Troops gave me the name "Desert Angel" out of the desert comes a box from someone they don't even know – it much be an angel ~  it must be "The Desert Angel"
I have been doing this since 10/11. My friend, Brenda Lunsford, her son, Charles Lunsford, (US Air Force) was serving in the sandbox/desert. It was some very primitive conditions… and very HOT… Making an air base, one sandbag at a time, with full gear and weapons on their backs! Every fall I invite the "Young Adults" from my church Walton Blvd. Church of God, Pontiac, Mi. out to my house for hay ride, food and fun, my treat… I wanted that group, the very same age of many of our soldiers, to give back in some way, so I asked them to make goodies and write letters and cards to send to our Troops – this is how and why I started sending – Yes it keeps growing and growing –  because deep down inside, The American People DO want to SUPPORT OUR TROOPS. I just found out a simple way to do and it does make a BIG difference. 
Sgt. Jon said: "I am going to correct you on one thing- you and your group are not making a small difference, instead I would dare to say its a huge difference, and it means tons to the soldiers over here, who depend on mail as much as they depend on air, I can't express how important mail is to a solider. You and you group of heroes are in my heart and prayers."
Tsg Karl H. Olson said "Thank you so very much for the little care package you sent US –  long after the candies and goodies are gone –  and the war is over, I will share your card with my grandchildren and tell them of your generosity you have shown their grandfather."
A quote from one of our soldiers sums it up by saying "You don't have to pick up weapons as one would think there are other ways and you have shown it. You let us know that we are NOT forgotten. The contribution you made to the war on terrorism was as tangible and important as fuel for our aircraft or armor vests for our security forces personnel."
No One Ever Dreamed…
We could fight terrorism with a box… A Miracle Box! I believe, "To win the war on terrorism, you must win the hearts of the children." …We could change the world with a box… A Miracle Box!
We could show GOD'S LOVE with a box… A Miracle Box, when opened the LOVE spilled out and over flows…
We could show the people, our LOVE For OUR TROOPS and our COUNTRY with a box… A Miracle Box!
We could reach down and touch the life of a child with a box… A Miracle Box!
50 years from now it won't matter what kind of car you drove what, what clothes were on your back, or how much money you made…  but what will matter is how you touched the life of a child. It will live on and on…

As of October 2007 we have now named our boxes we send "Miracle Boxes" in honor of Ortonville, Michigan's fallen hero, PFC Joseph A. Miracle, US Army Airborne of the 173rd. Joseph was in Afghanistan only 35 days when he gave his life defending his unit. 

It is said that, "Only two defining forces have ever offered to die for you,  Jesus Christ and the American G.I.;  One died for your soul, the other for your freedom."  We are proud and privileged to give honor to both through this ministry.
Christ gave his life for us…
In each Miracle Box we add a "Prayer Cloth" or "Pocket Flag" reminding our Troops, we are praying for them.
Unique in anyway…probably not. Just a simple act of kindness, multiplying over and over and over…making a difference, one box at a time. Making a difference in the sender and the receiver and sharer, because the Troops share, whatever we send. 
How many packages, everyone asks: I have now been doing this for 6 years (10/01) so it has been thousands of boxes, I really do not keep track, remember, this is a simple act of kindness that multiplies over and over and over. A quote from Col Joe, "You are more visible than you can possible know" @ Brooks Army Medical Center who served at the Baghdad Support Hospital in 2003 and in 2006.
I have a few contacts, you just need a few, that way you can keep track of when they are rotated back home, then they "pass the torch" on to the next soldier, when he gets to the sandbox. You see, Our Troops are a team and they share the wealth of each box they receive.
Word of mouth is how "The Desert Angel", keeps going. Americans are good hearted and generous people… They really want to do something to support our Troops, I just show how.
Changing our world
one box at a time!
Louise "Desert Angel"
Desert Angels, Inc.
P.O. Box 667 – Linden, MI 48451